Welcome to the #1 free practice hub for Revelian Cognitive Ability Test (RCAT).
Take a free 25-question RCAT sample test, with a score report that will tell you exactly how you do on each question type

.

Take our free cognitive ability test prep course to understand every aspect of the test. 

Get answers to frequently asked questions about the RCAT.
Revelian Cognitive Ability Test Analysis
The RCAT is a popular pre-employment cognitive ability test that follows the concepts of classic cognitive ability tests but is by far the richest in terms of the number of question styles it presents (over 25!). It is widely used by employers, especially in Australia. At least according to Revelian, employers can utilize it in their hiring process in order to cut on hiring and turnover costs, as it is the single best predictor of future work performance. Luckily, preparing for it in advance can increase your performance.
| | |
| --- | --- |
| Section | Question styles |
| Numerical reasoning | Number series, number matrices, word problems  |
| Verbal Reasoning | Analogies, vocabulary, deductive reasoning, odd-one-out |
| Abstract Reasoning | Series, odd-one-out (2 of 5 and 2 of 6), analogies |
Additional Unique Features of the RCAT
The difficulty level of questions increases as you progress through the test.

Some questions are not multiple choice, but rather fill-in-the-blank.

You can only take the test once every 12 months.

Your score may be revealed to more than one employer.
Free RCAT Practice Test
Before you start, please remember to:
have a pen/pencil and some scrap paper.

turn off any distractions.

not use a calculator.

answer as many questions correctly.

mark an answer to each and every question. There is no negative scoring in the test.

thoroughly review the explanations upon receiving the score report. The key to improvement lies in this step.
What Does Our RCAT Test Sample Include?
The Revelian Cognitive Ability Test sample we offer below follows the style of the RCAT and includes 25 example questions to be completed within 10 minutes. This means you have 24 seconds per question on average, similar to the real test average which is 23.5 seconds per question. It is a mini version of a full-length RCAT and serves as a preliminary way to explore some of the test's question types. Most importantly, this sample test allows you to experience the strict time frame of the real test.
In addition, our Revelian sample test produces a detailed score report that benchmarks your performance against the population of users who took the test on our website, maps your strengths and weaknesses per question type, and provides an explanation per each example question.
Preview What Your Score Report Would Look Like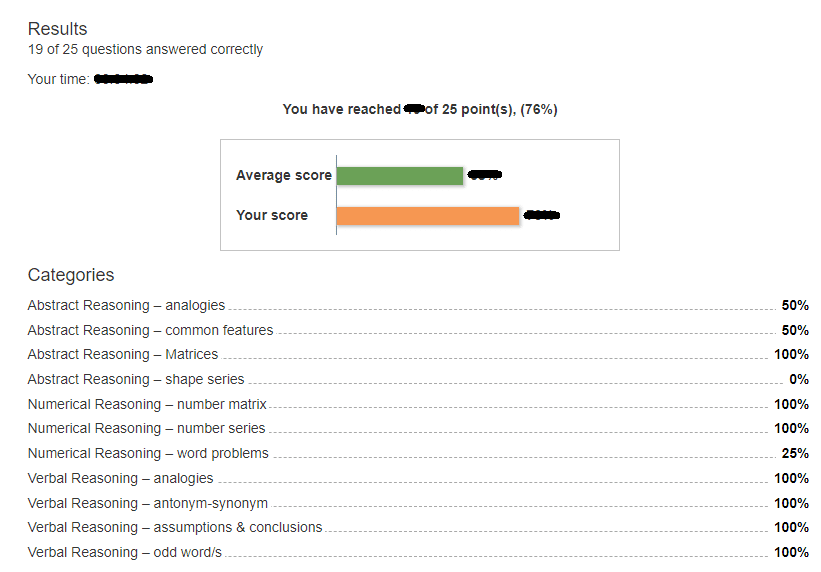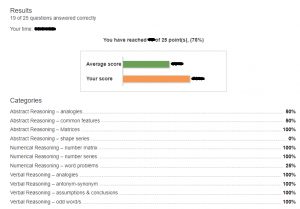 Revelian Cognitive Ability Test Scores Explained
As in any other cognitive ability test, your raw score is converted into a percentile score, which allows benchmarking against different populations of candidates. According to Revelian, there are 4 main candidate groups against which an employer can decide to compare your score: The general population of employed workers, your industry, other candidates who are competing for the same job, or graduate/management level candidates.
Revelian barely provides information about scores on the RCAT. In this tutorial, they show an example of a candidate whose raw score (the number of correct answers on the test) is 22 out of 51, which falls near the top of the average range. In a score sample that is available via a simple Google search, a score of 28/51 reflects an above-average score in the 86th percentile of employed adults (meaning higher than 86% of employed adults). Scoring 30/51 will get you to the 90th percentile club. 
Given the above information, if you're asking yourself what is a good Revelian score, then the answer depends on the audience against which you compare yourself. If we look at the general population of employed adults as a satisfying comparison group, then any score above 20/51 will put you above the average, and the closer you get to 30/51, the better!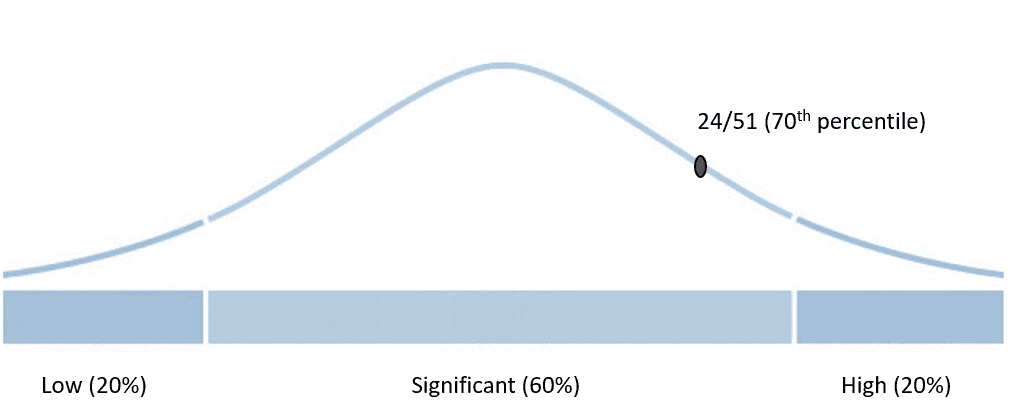 In the image above you can see that a raw score of 24/51 is higher than 70% of the population. In addition, according to Revelian, "Significant" is the score range in which a candidate is likely to show strengths that are related to critical thinking. "High" means a very high likelihood of showing such strengths, which is among 20% of the population.   
RCAT Verification Test and Why It's Not Worth Cheating
Employers are advised to use a verification test to make sure candidates have not cheated when taking the test from home. In fact, Revelian will not charge the employer for the second-round assessment, so it is likely that all employers who use the RCAT will utilize a two-step verification process.
If your score on the second, supervised test will be lower than the non-supervised, remote test session, there are high chances you will be disqualified from the application process. Therefore, it is not worth cheating on this test!
Important Note about Official RCAT Example Questions
The Revelian website offers a series of 6 sample questions from their cognitive ability test (RCAT). In one of the brochures that are handed over to potential customers, Revelian specifically mention that the sample questions are of easy difficulty level and do not reflect the test's entire range of difficulties. It is likely that those example questions only represent the first few questions in the test, which as we know includes 51 items and becomes more difficult as you progress through it.
In addition, take into account that the real test includes 25 different question styles, but the samples only cover 6 of them.
That is why it is important to try and put your hands on additional practice resources which follow the Revelian Cognitive Ability Test style and reflect a broader range of difficulty levels. Our free RCAT practice test above is a good place to start, as it provides you with more example questions that follow the real test style, and they're not all easy :).