Hi there, 
Looking to prepare for an SHL General Ability Test? You've come to the right place! 
Learn about the SHL Verify G+, Verify Interactive G+, and General Ability Screen tests. 

Take a free SHL practice test with answers and explanations.

Understand your test score and test results.

Enrol in a prep course.
What is the SHL General Ability Test? 
SHL General Ability Tests are assessments used by employers to assess potential candidates for specific roles. There are three main versions of the test: the Verify G+, the Verify Interactive G+, and the General Ability Screen.
SHL Verify G+
The SHL Verify G+ is a 30-question multiple-choice assessment that takes 36 minutes to complete. You may use a calculator and scrap paper during the test.
There are three basic question types on the test: deductive reasoning, inductive reasoning, and numerical reasoning. Questions are not divided into sections, but are shuffled. Each question type should be easy enough to identify, especially if you have prepared for the test. While the question types are shuffled, they aren't entirely random. This is because the test difficulty level is adaptive. This means that the difficulty level of the questions will change based on whether or not you answer previous questions correctly. 
Read more below about each question type:
Deductive Reasoning (Logic Questions)
This section will test your deductive reasoning and logic skills. Questions will present you with a series of facts or statements, and you will have to deduce logical conclusions based on those statements. Here's an example question: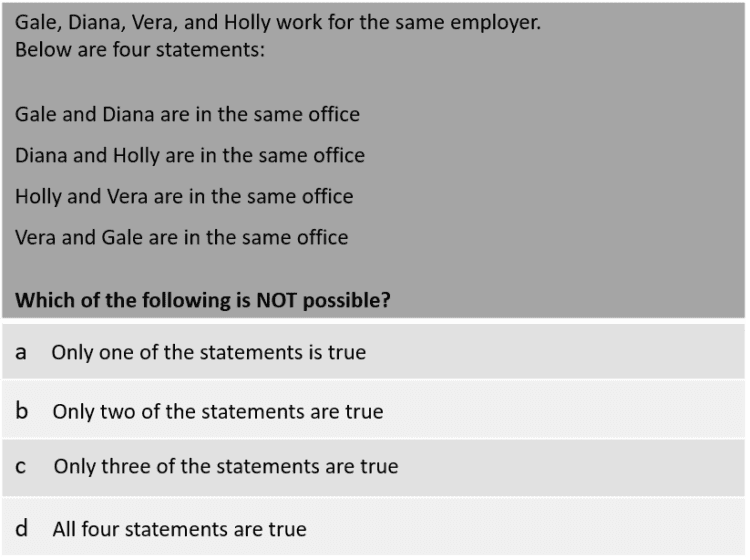 Inductive Reasoning (Shapes & Figures)
Inductive Reasoning questions will test your nonverbal and spatial abilities. Questions will not have any words or numbers, but rather will present you with shapes and patterns. Some questions will have you look at a sequence of four shapes and determine what shape will come next; some questions will present you with a figure with a piece missing, and ask you to figure out what pattern or shape goes in the missing space.
Numerical Reasoning
The Numerical Reasoning section of this test is made up of mathematical word problems. You may be presented with graphs, tables, and other data to use and interpret in order to answer each question. The arithmetic itself may not be too complicated – after all, you are allowed to use a calculator. But you will have to be able to understand and interpret the data presented to you and figure out how to utilize it to answer the question. Ratios, percentages, and averages are common concepts in these questions.
Here's an example question: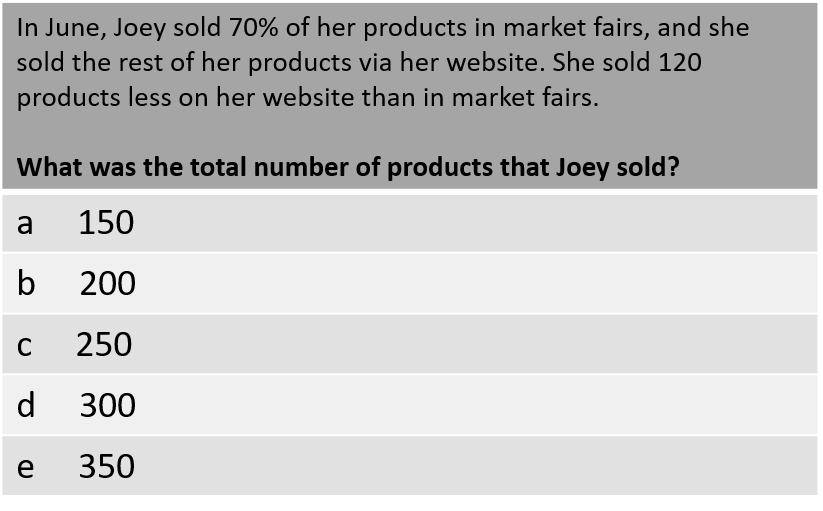 SHL Verify Interactive G+
The SHL Verify Interactive G+ is similar to the Verify G+, but is designed as an online and mobile-friendly assessment with a more hands-on, interactive approach. The assessment has 24 questions and takes 36 minutes, and is also an adaptive style test, meaning that the question difficulty changes based on how you answer the questions.
The Verify Interactive G+ focuses on the same three abilities as the Verify G+ – Deductive Reasoning, Inductive Reasoning, and Numerical Reasoning – but does so in a more activity-based fashion. For example, this means that you may see the same numerical reasoning question as you would on the Verify G+ that asks you to calculate percentages and ratios, but instead of being presented 5 answer choices, you would have an interactive pie chart or bar graph where you'd have to adjust the percentages and ratios yourself. 
SHL General Ability Screen
The SHL General Ability Screen is a screening test used early on in the application process, and is generally used for entry-level jobs. While the Verify G+ and Verify Interactive G+ are generally used later in the hiring process, the General Ability Screen is just used to filter out candidates early on. Because of this, it is a very quick assessment that takes only 10 minutes to complete. 
The question types are the same as on the Verify G+ – Deductive Reasoning, Inductive Reasoning, and Numerical Reasoning – but with an additional question type added: Verbal Reasoning. The Verbal Reasoning items will present you with short passages to read, followed by questions about the short passage. 
Since this test is very similar to the Verify G+, you can prepare for it with our practice materials, together with a Verbal Reasoning prep pack. 
SHL General Ability Test Practice Questions 
Take this short practice test to get a feel of what the SHL General Ability Test is like. Upon submission, you'll see a full breakdown of your performance in a detailed score report. You will also see the correct answer with a full explanation for each question. 
SHL General Ability Test Score Reports
You will see your score report shortly after submitting your test. You will be shown your score, which is just the percentage you answered correctly out of 30. For example, if you answer 21 out of 30 correctly, your score will be a 70. 
You will see a full breakdown of how many questions you answered correctly, incorrectly, or left blank. You do not lose any points for skipping questions or for answering questions incorrectly. You only earn points for each question answered correctly.
Additionally, you will also be shown an analysis breakdown by skill level, as well as how you compare to other applicants at the company you are applying to. This will show you the average, high, and low scores of other applicants, as well the average, high, and low time taken to complete the test. 

Additional Resources for the SHL General Ability Test
There is more helpful information out there to get you ready for the Verify G+, Verify Interactive G+, and General Ability Screen. Check out SHL's practice website:
Nice to meet you! I am Gideon, Founder at 12 Minutes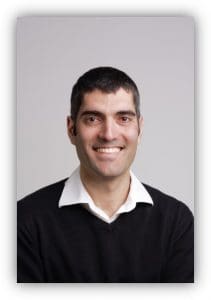 My prep courses have been taken by over 150,000 candidates.
I know pre-employment cognitive ability tests inside out and I am passionate about helping you succeed. Join the discussion below if you have any questions, or simply use the chatbox at the bottom left corner. I'm certain we can help you prepare for your SHL general ability test.