Welcome to the #1 practice spot for the Elevator Industry Aptitude Test, AKA the EIAT. Here you will find: 
a free EIAT practice test

test content breakdown with examples &

tips

a prep course to maximize your score potential

a free tool assessment PDF guide
Access all the tools and advice to prepare for and improve your score on this test!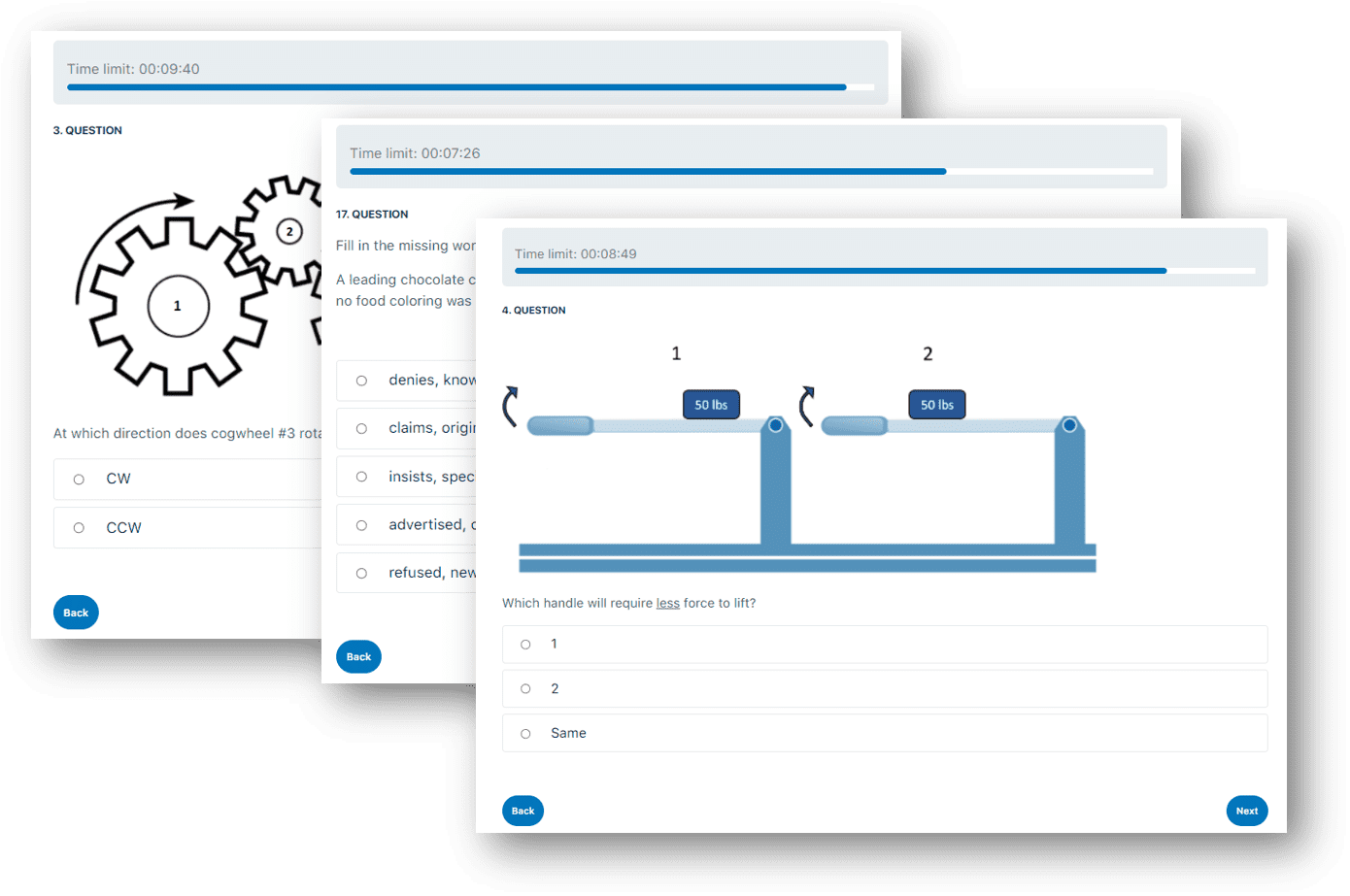 EIAT Test Quick Overview
The Elevator Industry Aptitude Test is a 100-question multiple-choice test consisting of three parts:
Reading Comprehension – 25 minutes

Mechanical Comprehension – 25 minutes

Arithmetic Computation – 40 minutes
Calculator: not allowed
Administration: on paper
Pass score: 70%
The EIAT is  a nationally validated exam, used by the National Elevator Industry Educational Program (NEIEP) as part of the application process for elevator apprenticeships.
Numerical Reasoning
These questions will assess your ability to work with and understand numbers. Question types will include:
Arithmetic 

Basic algebra

Fractions and decimals
The bad news is that you cannot use a calculator!
Arithmetic
Calculate 10212 ÷ 222
Express 1 and 5/8 as a decimal
Which number has the lowest value? 0.3 | 1/3 | 3/8| 20% of 0.6
See more examples in our free practice test.
Verbal Reasoning
This section assesses your ability to read and infer written data. 
Sentence completion

General vocabulary
Forests of growing trees absorb carbon dioxide, _____ this is released into the atmosphere when they are cut down and allowed to rot, or are burnt. 
but
or
because
despite
hence
For more examples, take our free practice test.
Mechanical Reasoning
This is perhaps the most challenging section of the test. Questions will review different topics including:
Gears

Pullies

Levers

Forces
Which shelf will support the heaviest load?
For more mechanical reasoning example questions, take our free practice test
EIAT Free Sample Test
Take a test to get a feel of what the real Elevator Industry Aptitude Test would be like.
Upon submission, you'll get a score report that will break down your performance in each section and will compare you to the general population of test-takers who've taken this quiz before. You'll also get a chance to read the explanations per question and to grab some time-saving tips.
Tool Assessment
In addition to the Elevator aptitude test, you will also be asked to complete a short tool assessment, which will test your knowledge of different tools.
Tool recognition – identify how each tool looks

Tool application – understand what each tool can do

Measurements – use rulers properly
We have prepared a free tool assessment PDF guide for you:
Elevator Mechanic Apprenticeship Process
Here's an infographic that summarizes the step required to apply for an apprenticeship at NEIEB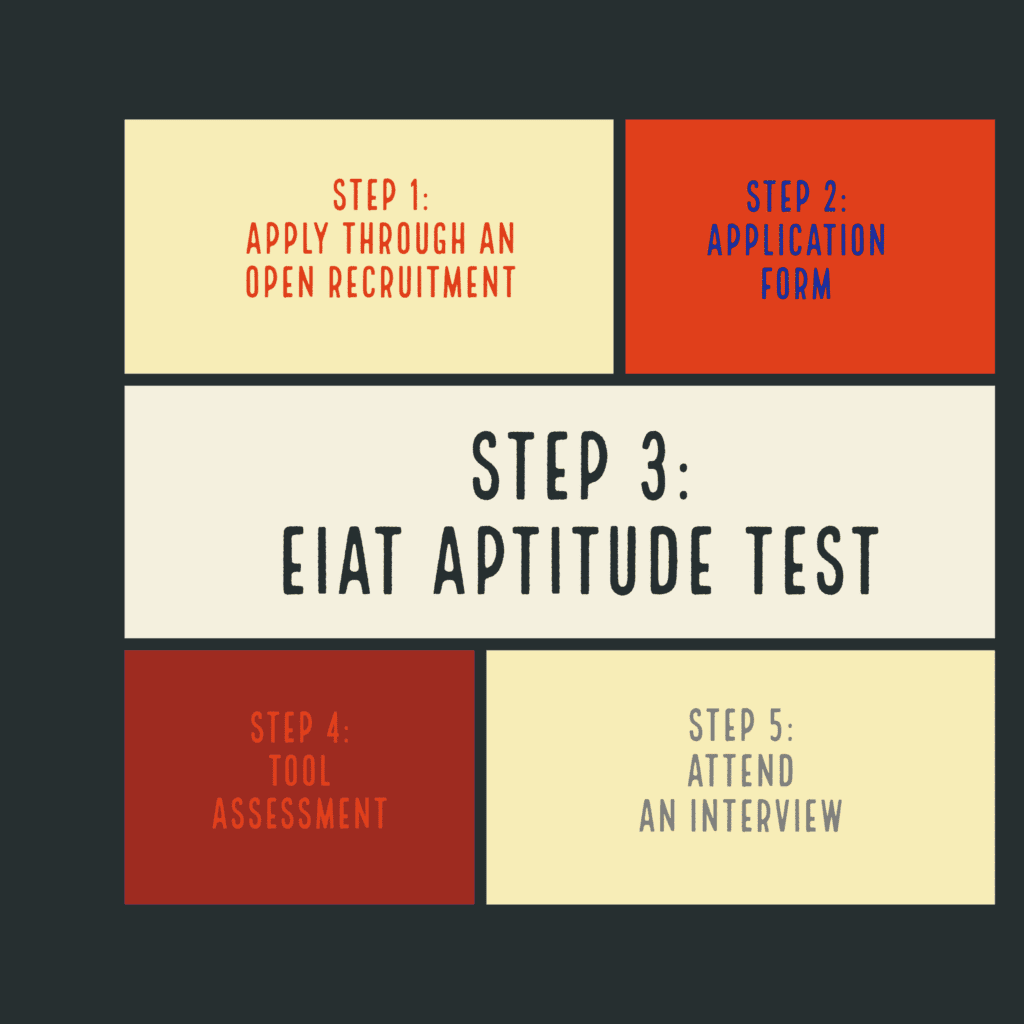 The Benefits of Practice & How We Can Help You
Practicing for the EIAT test can improve your score. apart from the general sense of confidence you will gain, training allows you to perform better in each section of the test. 
Numerical Reasoning. By far the most important part to train for in advance. This is because

calculators are not allowed

. Training will help in non-calculator skills and calculating faster.

Mechanical Reasoning. The second most important section to train on. You'll be surprised at what topics appear here and what tricks and skills you'll need in order to score high on this section.

Verbal Reasoning. The most straightforward section on the test. You could claim that preparation is not required here, but that's incorrect. This is because you want to solve these questions quickly. Without training in advance, you will likely be able to solve the questions, but they will take you more time. Time is a  precious resource and you can't afford spending too much time on verbal reasoning questions.
Frequently Asked Questions
Does NEIEB offer a practice test?
The NEIEB does not offer a practice test, unfortunately.
How long is the EIAT test?
The total time is 90 minutes, divided as follows:
Reading Comprehension – 25 minutes
Mechanical Comprehension – 25 minutes
Arithmetic Computation – 40 minutes
How long should I prep for the EIAT test?
The answer to this question depends on your current level of knowledge of basic math and mechanical concepts.
The more rusty you are, the more time you need. This could be even two weeks of extensive practice in advance to get back on the horse.
Start now with a free practice test
Is the EIAT test hard?
Certain topics on the EIAT can be considered difficult if you face them without prior preparation. This is especially true in the math and mechanical sections of the test. Unlike the verbal part which relies on general and even daily knowledge and skills, the math and mechanical sections rely on specific knowledge, techniques and skills that require training and pre-exposure.
In short, you can turn your EIAT test experience from difficult to easy by training in advance.
NEIEB's recruitment openings
Here you'll see all the available recruitment openings by local:
https://www.neieprecruitment.org/
Good video about the recruitment process
National Elevator Industry Educational Program: