Hi there,
I've found a great FREE way to prepare for the Cognify test by Criteria and I want to share it with you. Keep reading and start practicing for free. 
Quick Recap – What is it all about?
Cognify is a game-based cognitive assessment that includes six mini-games. Each game has a 3-5 minute time limit and you may be asked to take only some of the games, depending on the employer's decision. Just like a classic cognitive ability test, it is said to predict how candidates will perform on the job.
Cognify used to belong to Revelian, an Australian assessment company that was acquired by CriteriaCorp. Nowadays, it's known as the Criteria Cognify test.
The games are divided into three categories of cognitive abilities:
Problem solving (3) – measuring the ability to learn quickly and solve problems without prior knowledge.

Numerical reasoning (2) – quantitative concepts, mathematical knowledge and ability to work under time pressure.

Verbal knowledge (1) – indicates reading writing skills. This game does not have to be included in the assessment, and depends on the employer's specific needs.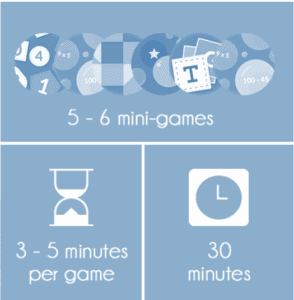 I've added links to more information about the assessment: 
Cognify Practice Test Alternatives
While there aren't really any customized practice resources that simulate Revelian's Cognify assessment, Apple's and Google's app stores are packed with apps that offer brain training games which are similar and sometimes even identical to the mini games used in Revelian's Cognify. A simple search for "brain training" on either app store will reveal a long tail of such apps, some of which are good, and most of which aren't.
The good news is that I've done the mundane and hard work of going through tens of apps, and made sure to match each of Cognify's mini games to an app that simulates that game to a satisfying extent.
All you have to do, is pick a table below according to your device type ( Android, iOS) and follow the instructions. The apps I listed offer a free version that allows you to practice a few games each day, thus downloading those apps and focusing on the games that I highlighted will serve as an excellent, free Cognify practice test!
Your Cognify Score

While each of the six mini-games are scored separately, it is the overall score summary that your employer will be looking at when making hiring decisions. Here's what it looks like:

That's it, I hope you found this quick guide helpful. If you have any questions – simply use our chatbox ("Need help?"). I'll reply in no time!