Hi there, 
Were you invited to take the Scholastic Level Exam (SLE)? You've come to the right place! Let us help you prepare and ace your test with the following:
Free practice questions with explanations

Complete test breakdown with samples

Score interpretation

Prep course to maximize your score potential
What's the Scholastic Level Exam All About?
The Wonderlic Scholastic Level Exam is a cognitive ability test that helps academic institutions select candidates for different programs. It is the equivalent of the Wonderlic Personnel Test (WPT), which is used for pre-employment testing.
There are two versions of the test:
Quicktest, or SLE-Q: 30 questions with an 8-minute time limit. You can expect to take the SLE-Q online, in a non-proctored environment, early in the admissions process.

Wonderlic SLE full version: 50 multiple choice questions with a 12-minute time limit. You can expect to take this version on the premises of the institute you applied for.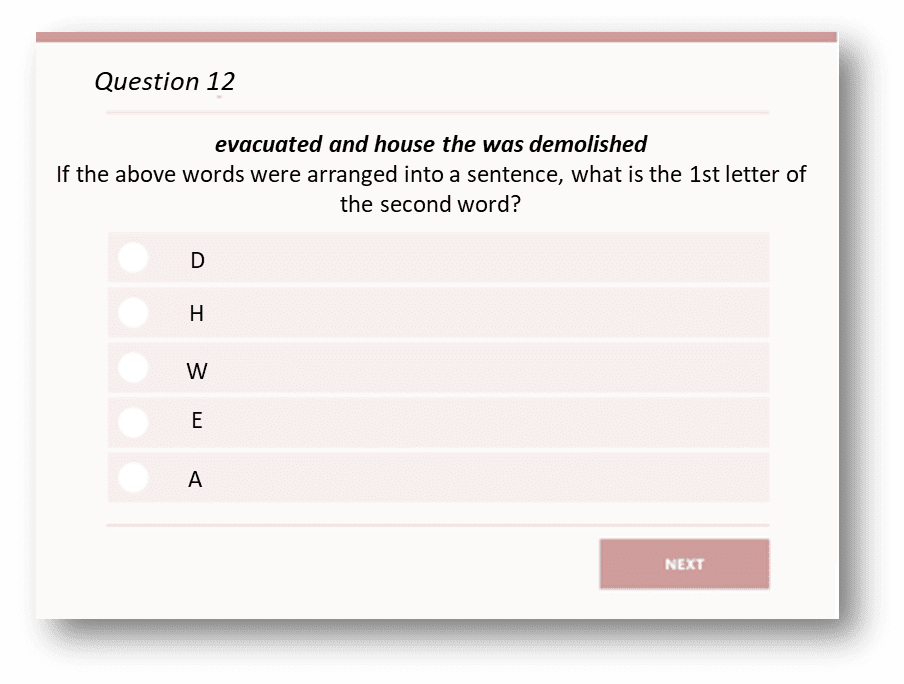 ↑ an illustration of a test item on the SLE
Free Scholastic Level Exam Practice Test
Take this quick test to assess your current performance and to get a gist of the question styles and topics that show up on the SLE. Upon submission, you'll get a score report that will compare your performance to that of other candidates who've taken this test, and in addition, you'll get access to the solutions and explanations. 
What's the Scholastic Level Exam Like?
The Wonderlic SLE is made up of many different question types that fall under the broader categories of verbal, quantitative, abstract and logical reasoning. They are further categorized into the following question types.
Verbal reasoning: word comparisons, antonyms, sentence forming, syllogisms, proverbs

Abstract and spatial reasoning: folding boxes, rotational series

Numerical reasoning: graphs, number comparisons, simple math, word problems, number series

General knowledge: dates & times, popular science
Here are some sample questions with solutions:
Word comparisons sample question
FACILITATE IMPEDE
These words are:
A. Similar
B. Contradictory
C. Neither similar nor contradictory
The correct answer is B. These words are contradictory. The word facilitate means to make something easier, while impede means to block or make something harder.
Word math problem sample question
Alex is 5 years older than Harry. Harry is 15 years old. Sandra is half of Alex's age. How old will Sandra be when Harry is 40?
The correct answer is 35. First, we know Harry is 15. Alex is 5 years older, so he is 20. Sandra is half of Alex's age, making her 10, which is 5 years younger than Harry. This means that when Harry is 40, Sandra will be 35.
Cube folding sample question
Can you tell which of the options can be folded correctly into the cube on the left?

The correct answer is C.
In order to answer it correctly and quickly, you must first be familiar with the different nets and how they fold into a 3-dimensional cubes.
If the symbols/faces are opposite each other or have another symbol/face between them in the net, then they cannot touch each other in the final cube.
In this question, we have three square faces of a cube: 6 dots, 3 dots, 2 dots. They all have one touching point with each other. Thus, options B, D, can be disqualified immediately, as their structure includes another, empty face between them. this leaves us with options A, C. Try and fold both into a cube and you'll see that only option C fits.
SLE Test Format
The test is not divided into sections, but instead features all of the question types mixed together.

Questions are arranged in order of difficulty, so it's likely the first questions you see will be easier than ones you face later in the test.

You will be able to skip questions and come back to them while taking the test, so it's best to try to answer the easier ones first, especially since you likely won't have time to answer all 50 questions.

You are not allowed to use a calculator, but you may use a piece of scratch paper for quick calculations.
Passing Scores
In many cases, the SLE will be used when the GPA of a student is below a certain threshold, usually below 2.5 or 2.4. But it can also just add up to the admissions process as another selection tool. The SLE's passing score depends on the college and program. You must find out what is the passing score of your desired program.
Each question is worth one point, and you will not lose points for answering incorrectly, so it's best to still take a guess even if you don't know the answer.
In the example below, we can see that the passing score is 14 and that the candidate managed to score 16, which means they passed.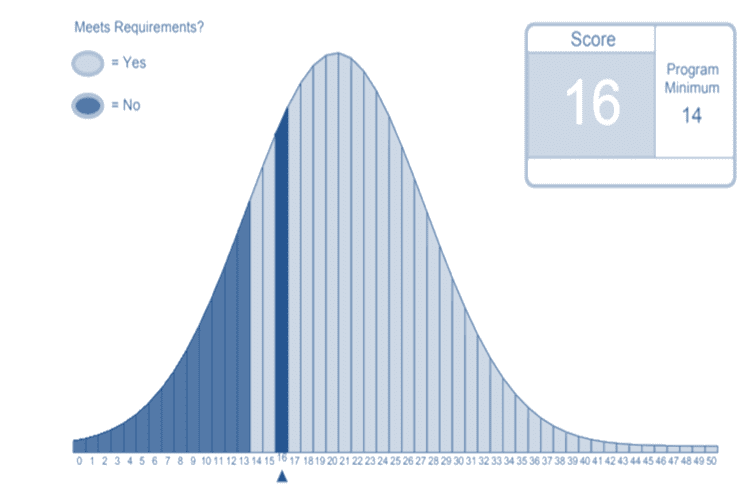 Also, note that the scores stretch all the way to 50. That's because the shortened version with 30 questions is converted to the 50-question scale. Thus, on the SLE-Q, each question is actually worth 1.66 points. This is to account for there being only 30 questions, so your score would still be out of 50.
Here's an example of passing scores for some veterinarian technology colleges.
| | | |
| --- | --- | --- |
| Institute | Passing score | Program |
| Vet Tech Institute | 20 | Vet Tech |
| bel-rea | 16 | Vet Tech |
| Plaza College | 18 | Dental Hygiene |
| Hallmark University | 15 | Information Tech |
| FVI School of Nursing | 16 | Practical Nursing |
Nursing Schools and the SLE
The SLE serves as one of the nursing schools' entrance exams.
Types of nursing programs that use the Wonderlic SLE include Certified Nursing Assistant (CNA), Bachelor of Science in Nursing (BSN), Associate of Science in Nursing (ASN), Associate Degree in Nursing (ADN), and Licensed Practical Nurse/Licensed Vocational Nurse (LPN/LVN).
The Benefits of Practice & How We Can Help You
Practicing for a general mental ability test has proven to improve candidates' scores. The same rationale applies to the Wonderlic Scholastic Level Exam. Training allows you to perform better by:
calculating faster

familiarizing yourself with math concepts that you haven't trained on for a long time

developing your confidence 
I highly recommend that you have a look at my free prep course's curriculum and try out the free test that's offered above.