Will you be taking the IBEW Aptitude Test soon? You've come to the right place!
Take a free IBEW practice test

A to Z guide on how to prep for the IBEW Aptitude Test

Get links to the best free practice resources from around the web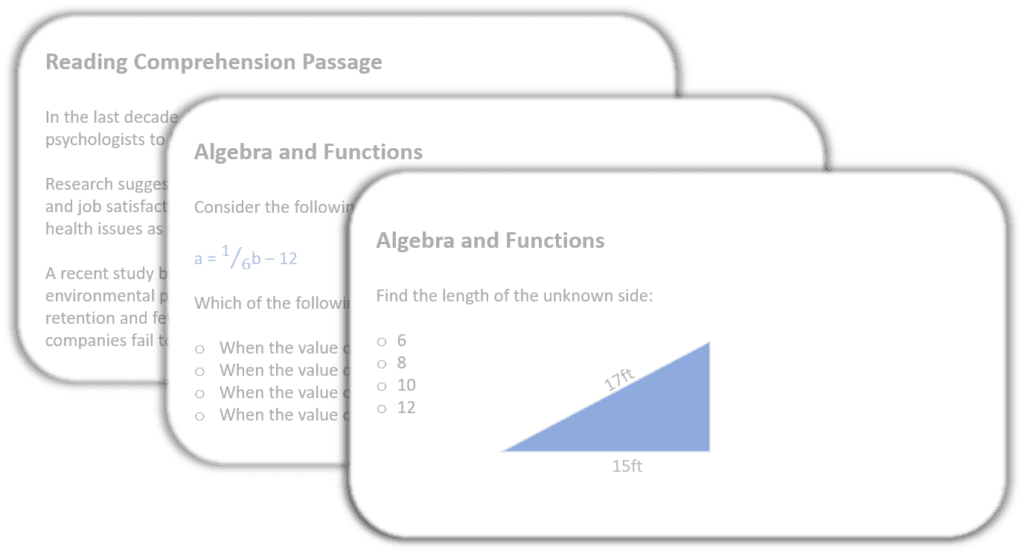 IBEW Aptitude Test Quick Overview
Math: 33 questions in 46 minutes

Reading comprehension: 36 questions in 51 minutes

Calculator: not allowed

Pass score: 4 on a scale of 1-9

The IBEW Aptitude Test, also known as the NJATC Aptitude test, is a test that assesses candidates who are looking to become licensed electricians and technicians. More specifically, it is designed for those who are applying to the Inside Electrician and Limited Energy Technician apprenticeship programs. After submitting an application to one of these programs, you will receive an invitation to take the IBEW Aptitude test roughly a month later.
Math Section Overview
The math section, or algebra and functions section, includes 33 questions to be completed in 46 minutes. The bad news is that you cannot use a calculator! 
You MUST prepare for this section. See the full list of topics below.
Consider the following formula:
y = ⅓ x + 19
Which of the following statements is true for this formula?
When x is equal to 5, y is a whole number
When x is greater than 0, y is a positive number
When x is less than 0, y is a negative number
When x is equal to 8, y is a whole number
When x is a whole number, y is a whole number
The correct answer is b. When x is greater than 0, ⅓ x + 19 must add up to a positive number. No positive value for x would lead to y being negative.
Whole Numbers
Fractions
Decimals
Integers
Rational Numbers
Exponents
Algebra Essentials
Equations, Formulas, and Inequalities
Ratios, Rates, and Proportions
The Cartesian Plane
Systems of Equations
Reading Comprehension
This section assesses your ability to read and infer written data. It's very straightforward but still demands training.
In the last decade, businesses have started employing environmental psychologists to help create a positive work environment for their employees. Research suggests that good workspace designs can enhance employee creativity, happiness and job satisfaction. On the contrary, poorly designed workspaces can be linked to health issues including eye strain and chronic fatigue, as well as low motivation and a decrease in productivity. A recent study by the Environment Journal found that companies who apply environmental psychology principles in their offices benefit from higher staff retention and fewer stress-related absences, but these impacts are reduced if companies fail to promote a healthy work culture.
Question:
Which one of the following is not mentioned as a potential impact of poorly designed offices on employees?
health issues
eye strain
chronic fatigue
teamwork
low productivity
IBEW Free Sample Test
Take a test to get a feel of what the real IBEW Aptitude Test would be like.
Upon submission, you'll get a score report that will break down your performance in each section and will compare you to the general population of test-takers who've taken this quiz before. You'll also get a chance to read the explanations per question and to grab some time-saving tips.
The Benefits of Practice & How We Can Help You
Practicing for the IBEW aptitude test can improve your score. Apart from the general sense of confidence you will gain, training allows you to shorten your response times per each question. 
Math. By far the most important part to train for in advance. This is because

calculators are not allowed

. Training will help in non-calculator skills and calculating faster.

Reading Comprehension. The most straightforward section on the test. You could claim that preparation is not required here, but that's incorrect. This is because you want to solve these questions quickly. Without training in advance, you will likely be able to solve the questions, but they will take you more time. 
IBEW Aptitude Test Preparation Tips
Here are our top tips for preparing for the IBEW Aptitude Test:
Tip 1: Start Preparing Early
Once you've applied to a program, you'll have a couple of weeks until you need to take the test. This isn't such a long time, so don't wait until the last minute to prepare. If you know you're going to be applying, start your preparation as soon as possible, even if this means starting to prepare before you've been asked to take the test, or even before you've submitted an application. You don't want to get invited to take the test, only to realize you don't have enough time to prepare. Start prepping as soon as you can.
Tip 2: Brush Up On Your Algebra
There are only two sections on this test, and one of them is almost entirely algebra. While algebra may not sound so daunting — we learn it in middle school, after all — it can still be very difficult, especially if you haven't seen it in a couple years. Do not go into the test unprepared! Be sure to review your algebra, and any shortcuts, equations, or skills that may help, as much as possible.
Tip 3: Take IBEW Practice Tests
The best way to prepare for this test is to take a full-length IBEW practice test under timed test conditions. Preparing and reviewing other tips are all helpful, but the best way to be ready for the real test is to create real test conditions for yourself while practicing.
Frequently Asked Questions
Do you get penalized for wrong answers?
No, you will not be penalized for marking a wrong answer. In addition, you can also skip questions and return back to them later.
How long should I prep for the IBEW aptitude test?
The answer to this question depends on your current math skills. The more rusty you are, the more time you need. This could be even three weeks of extensive practice in advance to get back on the horse.
Start now with a free practice test
What is the IBEW and what is the Electrical Training Alliance?
The International Brotherhood of Electrical Workers (IBEW) and National Electrical Contractors Association (NECA) are two organizations that together form the Electrical Training Alliance. The Electrical Training Alliance, previously known as the National Joint Apprenticeship and Training Committee (NJATC), sponsors programs within the electrical industry.
Is the IBEW Aptitude Test hard?
Though it doesn't require electrical knowledge or cover anything that you haven't learned in school, this is still a difficult test. It is especially difficult given the limited time constraints. Going into this test unprepared and attempting to solve high school-level math problems against a ticking clock is not a good idea. Be sure to brush up on your math skills, as well as your vocabulary, grammar, and language skills, before taking this test. Going in prepared will make a world of a difference.
What happens if I fail the IBEW aptitude test?
If you do not receive a qualifying score, you will have to wait 6 months before trying again. Once 6 months have passed, you will have to begin the application process again and wait to be invited to take the test again.
Electrical Training Alliance (NJATC) Sample Questions
The electrical training ALLIANCE (previously called NJATC) offers candidates some sample questions and general information about the IBEW aptitude test:
http://www.electricaltrainingalliance.org/SamplePage
Good videos about the recruitment process
This fellow shares his IBEW aptitude test experience and it's helpful: