Were you recently invited to take the WonScore test? This guide will help you learn all about the test's components and how to prepare so you feel confident on test day. I've also gathered the top 6 tips for you. Let's start!
What is the WonScore?
The WonScore is a pre-employment assessment created by Wonderlic that combines three tests into one: a cognitive ability test, a personality test, and a motivation test.
The cognitive ability test, also known as the Wonderlic Personnel Test, measures your problem solving skills and ability to work under pressure. It is a 50 question multiple choice test that is administered in 12 minutes.
The personality test assesses how good of a fit a person is for a position by measuring behavioral traits. It is based on the Five-Factor Model of Personality and measures five basic characteristics: Cooperation, Dependability, Stress Tolerance, Sociability, and Open-mindedness. While different positions may have different requirements, Wonderlic claims that research shows that high scores on Dependability and Stress Tolerance are the most important predictors of job performance.
| | |
| --- | --- |
| Wonderlic | Five-factor |
| Cooperation | Agreeableness |
| Open-mindedness | Openness |
| Dependability | Conscientiousness |
| Stress Tolerance | Neuroticism |
| Sociability | Extraversion |
The table above shows the five factors assessed by the Wonderlic Personality Assessment, along with the parallel trait assessed by the Five-Factor Model of Personality. As you can see, they are very similar, and it is recommended that you take a Five-Factor Personality Test as part of your preparation for the WonScore.
The motivation test identifies what factors and types of work motivate you to see if you'd be a good fit for the position. It measures a candidate using six different characteristics: Practical, Investigative, Artistic, Supportive, Enterprising, and Traditional.
Preparing for the WonScore
Preparing for the WonScore test is vital, especially for the cognitive test. As mentioned above, there are a lot of question types to know, and a lot of test-taking and time management strategies to master. Preparing is proven to improve your score, and even adding just a few points to your score can make a huge difference.
When it comes to the motivation and personality tests, it's best to take some practice tests in advance to see how good of a fit you are for the position, and then to make small tweaks if necessary to show the best version of yourself on test day.
Try out a free Wonderlic test and join over 100,000 candidates who have taken my prep courses. Here's a quick breakdown of how I'd recommend you prepare for each section:
Top 6 Tips for Acing the WonScore
Tip 1: Know the Question Types
Between the three assessments, there are a lot of question types. When it comes to the cognitive assessment, you likely won't be able to master each type, but it's good to be familiar with them. Being familiar with the question types on the cognitive test will give you the ability to work more quickly. This will also allow you to better understand your strengths and weaknesses so that you'll know which questions to focus on when you take the cognitive test, and which ones you can skip.
The motivation and personality tests are a bit different since they don't have correct answers the same way the questions on the cognitive assessment does. Still, knowing the question types will help you to answer them in a way that best represents your traits for the desired position.
Tip 2: Learn to Navigate the Cognitive Test
A big challenge when it comes to the Wonderlic cognitive test is the time element. You will have to answer 50 questions in just 12 minutes. It is very common for people to not answer every question.
The best strategy is to learn how to navigate the test in a way that efficiently allows you to answer the most questions correctly, even if you can't answer every question. If you are familiar with the test and the question types (see Tip 1), you'll be able to pick and choose which questions to spend more time on and which ones to skip and come back to later. It's best to jump around and answer the questions that you can first, and then come back to the more difficult ones later. Do not spend too much time on a single question – if you find yourself stuck, just move on to the next question.
Tip 3: Learn Shortcuts for the Cognitive Test
Since the short amount of time is such a big part of this test, it's vital to learn shortcuts. Once you know the question types, you should have some shortcuts in mind for each one. For example, when it comes to math problems, you should review your multiplication tables so that you don't need to spend time on basic equations during the test. Brush up on other shortcuts, like remembering that if two larger numbers multiplied together both end in 5, your correct answer must also end in a 5. When reviewing all of the individual question types, it's best to try and find little shortcuts like this for each one.
Tip 4: Take Full-Length Tests
The best thing you can do to prepare is to take a full-length test. Taking the above tips and putting them all together with a full-length test under timed conditions is the best way to really see how ready you are. In theory, it's good to know the other tips, but until you've put them to use under real test conditions, you won't really know how ready you are.
Try out a free practice test for the cognitive ability assessment.
When it comes to the motivation and personality tests, you'll want to take some practice tests for those to see what they show about you. This will allow you to see if you really are a good fit for the position, and to see if you can make some small tweaks in the way you answer questions on the test to better show your personality to get the position.
Try out a motivation test and a personality test.
Tip 5: Know What Score You Need
A lot of people want to know what a "good" score is on the Wonderlic but as mentioned above, it all depends. You will obviously want to do the best that you can on the test, but it's also good to go in with an idea of what score you need. For example, if the position you are applying for requires a score of 25, you shouldn't feel pressure to go in and get a 40 – which is a score in the 99th percentile. Going in knowing what score you need on the cognitive section will put your mind at ease and let you feel less pressure when taking the test.
When it comes to the motivation and personality assessments, you should know what traits you want to display. Again, it's best that you already have these traits and aren't trying to cheat the test – at the end of the day, if your personality and motivation are poor fits for a position, there is a good chance you won't have much success in the position even if you get it. It's best to know in advance what traits are needed for the position you are applying for. Start out by doing some research into the company and the job you want in order to see what traits are important to have. Then see if they match up well with your own, and try your best on the real assessment to show that you are a good fit.
Tip 6: Feel Good on Test Day
This seems basic, but it's still true and very important: take care of yourself! People often stress themselves out, pull all-nighters, or skip meals when they're focused on something like this, but that only makes you feel and perform worse. Preparing is important, taking practice tests are important, but at a certain point, you need to close the books and just let yourself feel good. Get a good night's sleep the night before. Make sure you've eaten something before the test. Try not to do any last minute studying or cramming, and don't stress yourself out. Do your best to come into the test as well-rested and calm as possible.
What is a Good WonScore Score?
Scoring methods are different for each of the three tests, as they all assess different elements of a candidate.
The cognitive test has a fairly straightforward scoring method where the more questions you answer correctly, the higher your score and the better your chances are of getting the job. The cognitive test has 50 questions, with the average score being 20 answered correctly. A "good" score will vary depending on the position you are applying for. For example, the target score for a bank teller is 22, while the target score for a systems analyst is 32.
Read more about Wonderlic cognitive ability scores.
The personality and motivation tests are a bit different. There is no "good" score on these tests, as they measure personality traits and don't have any real "correct" answers. These assessments will simply reveal if you are a good fit for the position or not based on your behavioral and motivational traits. The best thing you can do is find out what traits are necessary for the position you are applying for, and see if you think they match your own. If they do, just do your best to display these traits when taking the motivation and personality tests.
Take a look at this simple breakdown of the three scores: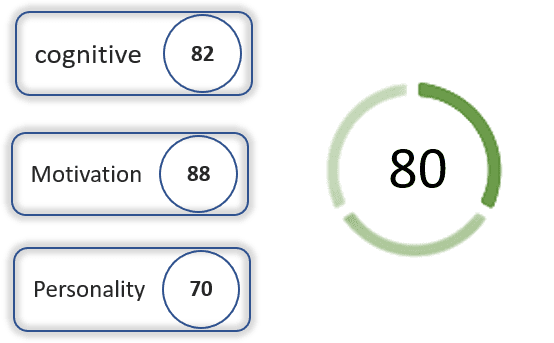 Final Thoughts
In summary, the WonScore is a comprehensive assessment that may seem daunting but is in fact something that you can beat. With the right knowledge and preparation, you can ace the WonScore to get your desired job. Review these tips, and be sure to practice and familiarize yourself with the test as much as possible. 
If you have any other questions or comments, post them in the comment section below. 
Good luck!